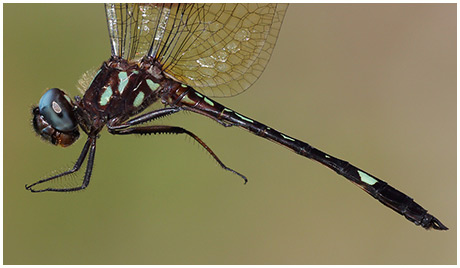 Canal Area, Metropolitan Park, 27th August 2012. Netta Smith's photo.
Total length: 40-43 mm. Hind wing: 29-33 mm.
Note the color of its eyes, a beautiful rare type of blue.
White-tailed sylph male held in the hand, Metropolitan Natural Park Panama City, 27th August 2012. Erland Nielsen's photo.
Habitat: clear rivers and large streams with some current, usually rocky. In open or forested country.
Distribution: vagrant in Arizona (2007), ranges south to Ecuador and Brazil (Dragonflies and Damselflies of the West, Dennis Paulson).

Panama - Macrothemis pseudimitans male 1/1
Clic...
Clic...